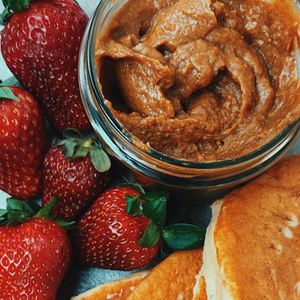 Ready to get saucy?! The Peanut Date Caramel Sauce is an entire jar filled with the topping of one of our signature pots - Caramel Crunch.
This sauce has been highly requested over the years and it's finally time to indulge in all the sweet, creaminess of this delicious pot of goodness. Slather it on your pancakes, swirl it on your oats, add it to your smoothie, spread thickly on toast, upgrade your fruit.. or just get your tongue in the jar and call it a day!
Here's all the info:
Ingredients: Dates, filtered water, PEANUTS and salt. That's it (but you won't believe it!) Contains PEANUTS.
Although we use Gluten Free Oats in our kitchen, please be aware that some other ingredients may have been processed in a factory that also handles GLUTEN.
PLEASE NOTE:

As we don't use any weird chemicals to make your food last longer than it should, they do have a naturally short shelf life - your Peanut Date Caramel will be at it's best for 8 days in the fridge and if you aren't ready to use it straight away, you can freeze it on the day of arrival so you can enjoy for longer!
You can freeze your Bexfast Pots for up to 6 months, to defrost simply leave in the fridge overnight.

Typical values per 100g:
Energy: 289kcal
Fat: 13g
of which saturates: 1.5g
Carbs: 35g
of which sugars: 33.6g
Fibre: 3.5g
Protein: 8.1g
Salt: 0.98g
A full pot contains around 200g e.