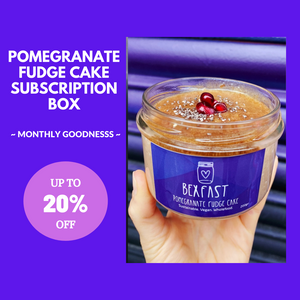 Want a monthly delivery of our insanely delicious Pomegranate Fudge Cake Bexfast Pots???
Subscribe and save now to receive 6 pots every single month for less!!

Perfect for treating yourself, a loved one or a friend. Check out the discounts and choose how you want to pay - then let's get this party in your mouth started
Discounts
Monthly billing - £28.00 per box
Quarterly billing - save 10%
Yearly billing - save 20%
Plunge your spoon through a layer of lightly salted date caramel into creamy oats mixed with chia seeds and cacao powder, with pops of naturally sweet pomegranate. Intentionally cakey, nutritionally dense and extremely satisfying.
INGREDIENTS:
Gluten Free Oats, Coconut Rice Milk (water, rice, coconut puree, sea salt), pomegranate, dates, filtered water, organic cacao powder, chia seeds, sea salt.
PLEASE BE AWARE: although we use Gluten Free Oats, some other ingredients may have been processed in a factory that handles Gluten. May contain traces of NUTS.
DID YOU KNOW YOU CAN FREEZE ME??
As our breakfast pots are made from nothing but fresh, wholefood ingredients with no chemicals they do have a short shelf life but the good news is that they are all freezable. If you don't think you will get through your order within the shelf life given on the lids then make sure you pop some in the freezer on the day of delivery. To defrost, take it out of the freezer and leave in the fridge overnight. It will be ready for you in the morning! Just be sure to eat it within 24hours. Enjoy :)
TYPICAL VALUES PER 100g:
energy/kcal... 135kcal
fat... 2.6g
of which saturates...0.5g 
carbs... 19.2g
of which sugars... 4.6g (naturally occurring sugar)
fibre... 4.4g
protein... 5.4g
salt... <0.09g