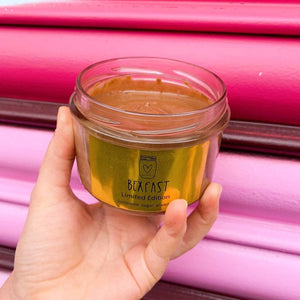 An entire jar of my Cacao Cashew Cream - this has never done before!!!! Perfect for topping your oats, spreading on toast, slathered across a banana split.. or just spooning straight out of the jar straight into your mouth. I'm salivating just at the thought!!!!
Enjoy responsibly! (If you can *wink*)
Ingredients:
CASHEW NUTS, coconut rice drink (spring water, Italian rice, coconut purée, sea salt), cacao powder, dates, sea salt. That's it! Contains NUTS.
Once defrosted, keep in the fridge and use within 2-3 days of opening. As we only use natural ingredients, some separation may occur - just mix with a spoon for perfection.
PLEASE NOTE:
As we don't use any weird chemicals to make your food last longer than it should, they do have a naturally short shelf life - we strongly suggest freezing some of them on the day they arrive so you can enjoy them for longer! You can freeze your Bexfast Pots for up to 6 months, to defrost simply leave in the fridge overnight and devour within 24 hours.
Typical values per 20g:
A full pot contains around 215g e.