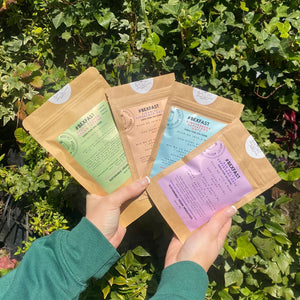 BRAND NEW!!! 
Love Bexfast but wish you could keep your pots in the cupboard or that you didn't have to remember to defrost one the night before?!
Well now you can! The Bexfast DIY range is going to completely revolutionise your mornings - whether you are in a rush, taking it easy, chasing the kids around trying to get them ready for school or eating in the office, this range is perfect for any time you want to eat something nutritious and absolutely delicious without the faff.
Meet your new favourite flavours:

* Gingerbread
* Red Velvet
* Tiramisu
PLUS
With each pack you will receive 1x Blendable Cashew Cream Sachet (per 6 oat sachets) that you just need to add milk to, blend and can keep in the fridge for up to 4 days - you can also freeze it for 6 months! Add to your breakfast daily, and even your fave desserts!
Oat sachet Ingredients: Gluten free oats, date sugar, chia seeds, coconut milk powder, ginger powder, cinnamon, salt.
Cashew sachet Ingredients: CASHEW NUTS, dates, vanilla, salt. Contains NUTS.
Although we use Gluten Free Oats, please be aware that some other ingredients may have been processed in a factory that also handles GLUTEN.
Typical values per 100g:
energy/kcal.. 398kcal
fat.. 10g
of which saturates.. 4.2g
carbs.. 56g
of which sugars.. 19.9g
fibre..  9.9g
protein.. 11.5g
salt.. 0.5g
Gingerbread Pack of 6 - 6x Gingerbread oat sachets + 1x Vanilla Cashew Cream blender sachet
Gingerbread Pack of 12 - 12x Gingerbread oat sachets + 2x Vanilla Cashew Cream blender sachet